The printer utility for professionals
Pre-Press ● Proofing ● Screen Printers ● Direct-To-Garment Printers ● Dye-Sub Users ● Large Format Users ● Photographers
---
Printer Jockey includes handy features which save time and money. It picks up where the Windows print-manager leaves off.

*** Not just an automatic head-cleaner. It's much more. ***

Offers MANY more features than competing software

Head Cleaners.

** PLEASE BE SURE YOUR PRINTER IS ON THE LIST OF SUPPORTED PRINTERS BEFORE YOU BUY **

(List at the bottom of this page)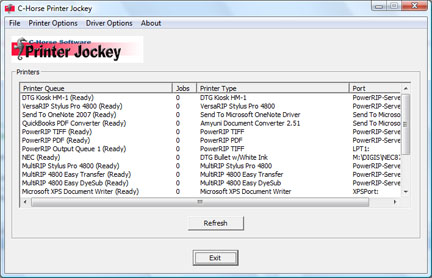 ---
**** NEW ***
- Production Run Feature -
You can now print multiple copies from a single-copy print file. Printer Jockey will send the job to the printer as many times as necessary to produce the specified number of copies. This allows you to archive one copy of a print file (letterheads, envelope, business cards, your favorite t-shirts, etc.) and print multiples at any time with a click of your mouse.
Some Features:
Automatically perform head cleanings on a user-defined schedule

Automatically print small jobs periodically to keep ink moving on a user definable schedule (you can select which ink channels it uses)

Insert files directly into print queues

Export printed files for archiving

Initiate a production-run from any single print-file (*NEW*)

Combine many jobs into one exported file

Flush individual channels (instead of doing a clean which wastes all ink colors)*

Print alignment grid (useful for multi-head direct-to-garment devices)*

Manage system printer drivers

Tells you which print queue is using a particular driver

Compatible with Windows 2000, Server 2003, XP, XP Pro, XP 64, Vista, Vista 64 and Windows Server 2008, Windows 7 (32 and 64-bit)
* = Only on select Epson printers (click here to see which ones)
In addition to these features which are unique to Printer Jockey, the program can also execute most of the actions that are available in Windows Print Manager (printers & faxes) such as deleting, pausing and restarting printers and documents, changing printer output ports, etc.
---